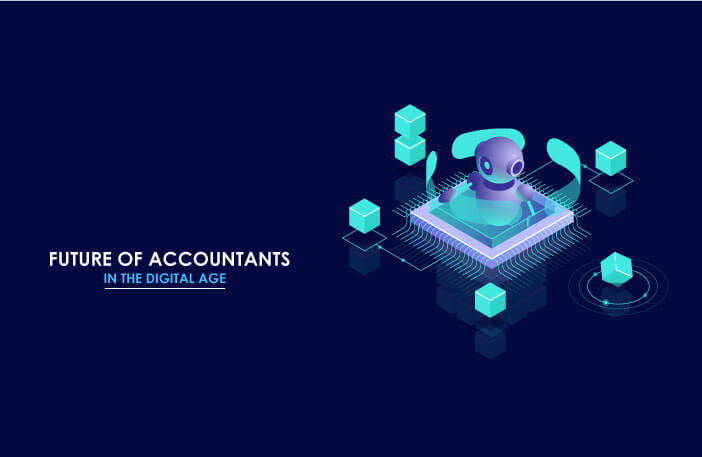 Future Of Accounting In The Digital Age
Future of Accounting:
New technology is changing the way people work across all industries. The same holds for the accounting profession. The evolution of technology is changing the future of accounting, and many accountants are afraid that technological innovations will replace their jobs.
According to Sage's 2018 Practice of Now report: "67 percent of accountants feel that the accounting career is more competitive than ever." There is no doubt at all.
According to the sage's 2019 practice of now report:
90% of Accountants worldwide believe that there has been a cultural shift in accountancy.

82% of Accounting professionals said they are considering recruiting from a non-traditional background.

30% of firms say they're actively seeking to diversify their workforce.
The days of paper recording and excel spreadsheets are long gone. A decade ago, accountants had expertise in mathematics in addition to an understanding of accounting principles and standards. While it is still essential, but today they are required more than their standard roles. 
Digital businesses are growing rapidly because technology continues to become essential in our everyday lives. Today, every business makes an emphasis on cost-effectiveness and return on investment (ROI), therefore, companies are looking to hire accountants and finance professionals with an increased demand for technology-friendly talent. Moreover, organizations are demanding skills that can offer the company a more strategic role.
Technologies influencing the future of Accounting profession
The accounting profession is rapidly changing due to emerging technologies. The top technologies or sources that are transforming accounting from traditional to modern-based and creating new roles for accountants are:
Artificial Intelligence & Robotics

Cloud Computing

Innovations in Accounting & Tax Softwares

Mobile Accounting
It is quite evident that technology is not going to stop but in fact, it will continue to be more and more advanced, consequently, the accounting profession will also continue to change. Now, let's see another side of the future of accounting industry.
According to the U.S. Bureau of Labor: "The employment of accountants and auditors is projected to grow 6 percent from 2018 to 2028, about as fast as the average for all occupations".
The above report shows that the future of accountants is secure if they update their skills and adjust to a new reality. However, there are various hard challenges ahead.
Impact of technology on the future of accounting jobs
The hard truth is, technology does not eliminate all accounting jobs, but dull, repetitive, and non-creative tasks, for instance, data collection, bookkeeping, general ledgers, accounts payable and accounts receivable, etc.
So, the robots are not coming to replace accountants, but they are coming to take up routine and manual number-crunching tasks and leaving a space for accountants to provide more valuable and strategic advisory services to their firms. All those accountants who only prefer to stick with traditional accounting skills will be left behind.
Better steps for the future of Accounting
Accountants need to prepare them for upcoming challenges. To do that, they need to redefine and transform their roles from traditional accountants to digital accountants. It's time to think a step forward and learn new skills, stay up-to-date with new technology, anticipate the tide of change, improve analytical skills and communication.
New technology does not eliminate all jobs. It reinvents jobs and even creates more new opportunities. Technological innovations in the accounting industry have been making the profession more precise, reliable, secure, and cost-effective. In this era of technological innovation, accountants need to adapt their skills to survive in a competitive digital age.
More Resource: