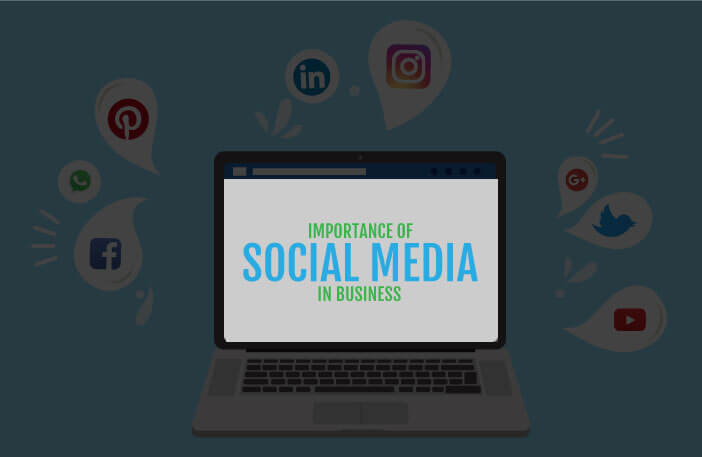 Importance Of Social Media In Business: Statistics of 2021
Importance of social media in business:
Business exposure or brand awareness is one of the primary objectives of the business. The advent of digital technology has made it possible to approach the largest and targeted audience through the growing wave of social media. Let's first explain why social media is important for your business and see the global statistics from a business perspective to understand the importance of social media in business.
Social media is the integration of technology with social interaction and the sharing of words, images, audios, and videos. It connects your business with its stakeholders digitally. 
Here is a summary of social media statistics for 2021 which clearly shows the importance of social media marketing for business.
There are 3.78 billion social media users worldwide.

Facebook is the most popular social media network.

Users spend an average of 2.5 hours per day on social networks.

73% of digital marketers believe that social media marketing is "somewhat effective" or "very effective" for their business.

54% of social browsers use social media as a business tool to research products.

71% of consumers having a positive experience with a brand on social media are likely to recommend the brand to their friends and family.

49% of consumers entirely depend on influencer recommendations on social media.

Over 2 million businesses today use Facebook advertising to promote their products and services.
Let's explain the benefits of using social media for marketing your business.
Brand awareness for social presence
Social media presence not only establish your brand but also help develop connections with existing clients and build trust among them. It also brings you in front of new clients and plays a key role in generating business growth.
A business without a social presence will most likely skip the new potential clients out of 3.5 billion social media users worldwide.
A business with a social presence can respond better to marketplace dynamics and competitive opportunities than a traditionally organized business. That's all possible through participation in a social community, discussion forums, or any other social applications and contexts.
Social media advertising
Social media advertising is one of the fastest-growing marketing trends now. It brings numerous advantages when a business showcase its products and services for promotion.
There are many advertising strategies, however social media is a brilliant choice when we see its benefits.
When we compare,

social media is much cheaper

than traditional advertising methods such as print media, radio, and TV advertising. Moreover, before you opt for paid ads, you can also advertise your products on most of the social networks with free of cost.

Unlike traditional advertising, you can

target your specific audience

through social media ads and increase your conversions.

Once you create your ad, you can

make performance analysis

to understand either your ad is performing better or not and update your ads for better results.
Increase incoming traffic
A business would be restricted to its internal customer base, or people already familiar with your market or brand if you ignore the value and importance of social media in business. Social media traffic increases when you plan an effective inbound marketing strategy and target your customers, engage them and build relationships on different social networks. Traffic that you create this way, most probably convert into sales because it's most relevant to your brand.
Social media competitive analysis
Regardless of which kind of business you have, you always face the competition. Getting the edge over your competitors is most essential if you want your business to succeed.
Competitive analysis is actually the analysis of competitor information and its business behavior. With social media competitive analysis, you can compare key aspects of your competitors' strategies and conclude how well your own strategy is performing in different social media environments.
What is the goal of competitive analysis? Absolutely, there is a goal. The goal is to better understand how well you can boost your social presence in comparison with those in your industry.  
Engage with customers for better relationship
These days, we see an increasing trend of social media as much more accessible and friendly than a call center executive. It is a personalized and most effective way to engage with your customers and resolve their issues.
Customer satisfaction is one of the objectives of successful businesses, so it must be your topmost priority. That's how you could retain your existing customers through social engagement.
Improve search engine optimization
The importance of social media in business is deeply concerned with search engine optimization. Search engine optimization is about gaining more exposure and bringing more users to access the website organically. According to Google, it considers social signals when ranking a web page. If that's so, it will increase your brand awareness and boost your sales. 
Increase Social Media Sales
Increasing sales is one of the primary objectives of the business. An effective social marketing strategy can boost your brand for huge sales. Facebook, Twitter, Linkedin, Pinterest, Instagram, and even YouTube have started offering product advertisements to brands. A business can sell its products through advertisements on these networks. This is one of the common methods of selling through social media. There is much more that indicates the social media impact on business evaluation.
Final thoughts
Social media has expanded to become so much more than just its initial concept. With such incredible growth, every business today needs to make the best possible use of proper social media channels.
Social media is an integral part of your business marketing strategy and your business should take advantage of it if you want to survive in the digital age.
More Resources: