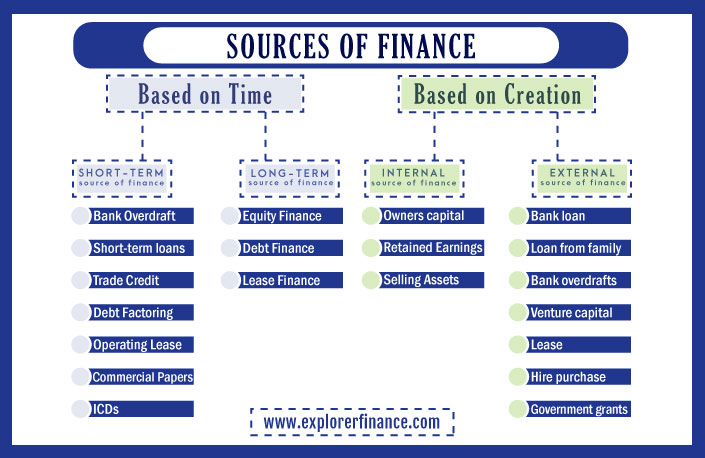 Sources Of Finance : Based on Time and Creation
Sources of Finance:
Every business needs finance to run or grow the business, whereas the financial needs of every business are different according to the type and size of the business. There are several sources of finance, however, the objective is to achieve an efficient capital structure of the business.
The choice of sources of finance is an important aspect for the management. It is perhaps one of the biggest challenges to choose an efficient capital structure that provides a balance between short-term and long-term funding, a balance between equity capital and debt capital, and the availability of adequate working capital.
Apart from the fact that there are various different sources of finance for a business, even though the process of selecting the right source involves in-depth research and analysis of each source of fundings.
It is one of the core decisions relating to finance, where the finance should be obtained from (debt or equity) and whether it should be long term (long-term debt or equity) or short term (trade suppliers and bank overdrafts).
In this article, we will explore the sources of finance on the basis of timing factors and creations. 
1- Short-term sources of finance
Sources of short-term finance are used to finance current assets or pay current liabilities of the business. There might be many reasons when a business raises short-term fundings for a small duration of time, generally less than a year. While it helps in minimizing the gap between current assets and current liabilities.
The most common examples of short-term fundings are:
2- Long-term sources of finance
Long-term finance is required by the business organization for the objective of business expansion, technological innovation, and research and development of assets. Businesses raise this type of finance for a long-term period, usually more than a year.
The followings are the major sources of long-term fundings:
On the basis of finance generation, there are two sources of fundings: Internal sources and external sources.
Internal sources of finance for business
Internal sources include all those funds which are generated internally within the business. A business entity raises these funds through the normal activities of the business. The most common examples of internal sources of finance are:
External sources of  finance for business
External sources include all those funds which are generated from the outside of the business. The most common examples are: