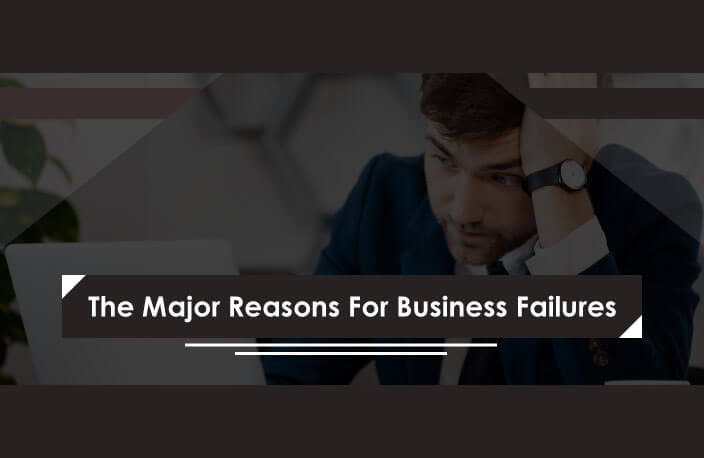 The Major Reasons For Small Business Failures: Facts and figures
Small business failures:
Every year, thousands of entrepreneurs set up new businesses. They enter into business with a hope of success, however; they face constant challenges and a lot of fear of business failures. According to the Bureau of Labor Statistics, about 20 percent of small businesses fail in the first year, and about 50 percent of small business failures take place in their fifth year.
There are also several economic factors behind business failures, but yet, the rate of failure is fairly consistent from year to year.
It is important to note that the facts are different when we look at the small business failure rate, industry by industry.
Why do businesses fail (Statistics)
According to CB Insights analysis of 101 startups polls, here are the top reasons why businesses fail.
42%

of small businesses fail because there's no market or small market for their products or services.
29%

fail because they run out of cash.
23%

fail because they don't have the proper and effective team for running the business.
18%

fail because of pricing and cost issues.
17%

fail because of a poor product offering.
17%

fail because they lack a business model.
14%

fail because of poor marketing and lack of customer focus
Major reasons for business failures
When businesses fail, there could be several reasons in addition to above business failure statistics ,however, a majority of businesses fail just because of the following reasons.
Bad business idea
Business idea is the most important thing in business startup. As per research, small business startup failure rate is almost 80%-90%. Many factors contribute to the success of the business, but the sound business idea is the starting point.
All that said, if you start your business with the flawed idea, either in the conception or in the execution, your business is less likely to grow and may struggle to survive.
Lack of Planning
Many small business failures result from the fundamental shortcomings in their business planning.
The business plan needs to be realistic, accurate, contain up-to-date information, and realistic projections for the future.
The plan should also include where your business will be in the next few months or the next few years.
Leadership inexperience or incompetence 
Most of the new business owners have no experience in running a business, many have minimal management skills. Perhaps an owner knows how to produce or market a product but doesn't know how to manage people. Eventually, small businesses fail because of poor leadership.
The leadership must be able to make the right decisions at the right time. Leaders must communicate a strong vision. Also, they must encourage and empower staff to make decisions for themselves.
Lack of cash
Lack of cash is another important reason small businesses fail
. The small business owners
borrow enough money to set up the business but don't have enough extra cash to operate during the start-up phase. 
A business needs to have enough cash to better survive. A business with sufficient cash or having strong liquidity can survive even if it incurs losses. On the other side, even a profitable business is unlikely to survive if it cannot pay due obligations. Moreover, there could be a business failure due to poor cash flow management.
Lack of customer focus
A major advantage of a small business is the ability to
provide special attention to customers, however, they fail to seize this advantage.
The customer is the king of any business.
If you listen and understand their concerns, you can improve your products or services. Customers don't disappear, they go to your competitors and eventually you lose them.
To be successful in a market, a business needs to understand the environment in which it operates, and the way customers think and act in that environment.
Inability to handle growth
Business growth is exciting, however, it's more important to manage it well. When a small business grows, it needs to restructure. The owner's role changes. Some owners don't make the transition and find themselves frustrated. Hence, it results in business failures.
Things don't get done, making ineffective business, losing track of finances, customers become unhappy, and expansion actually damages the company.
Businesses often underestimate the intense pressure associated with rapid business growth. Growing too fast can be just as dangerous to your business as not growing at all.
More Resources: